Museum of early consumer electronics and 1st achievements
www.rewindmuseum.com



Satellite magazines and publications.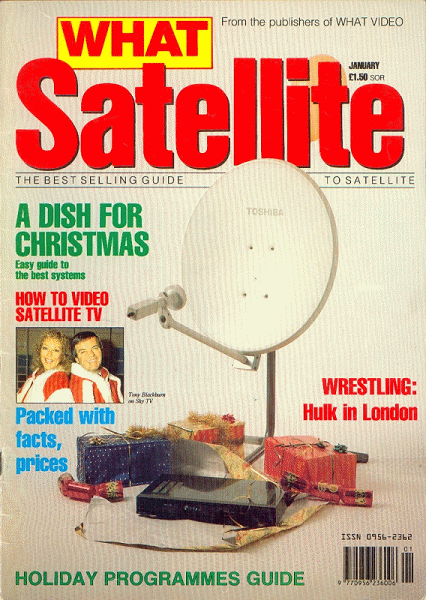 We have a large stock of old "What Satellite" magazines in storage.
They are from the early 1990s
This is an early copy. It was purchased in December 1989 and it is the January 1990 edition
This was the first What Satellite that I ever purchased (from new in 1989.)

What Satellite Magazine May 1989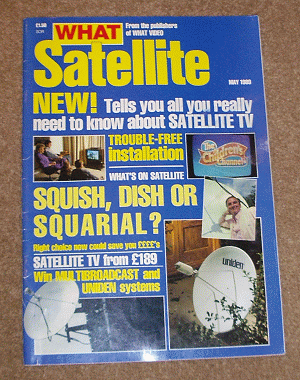 This is now our earliest copy of What Satellite magazine. (donated)
The 1st ever dedicated Sky System is shown in this copy.
Sky Television had been available in the clear for some time using free to air receivers but
in 1989 the Amstrad SRX satellite system was introduced.
Several features made this an industry first.
It was supplied specifically for the analogue Sky channels that were, at that time, being transmitted
from Astra at 19E. It was a 16 channel receiver that had 16 preset channels tuned to the Sky frequencies
on 19E. This made it unsuitable for other satellites or packages as the tuner was not infinitely variable.
It could not be altered for other frequencies on different satellites.
The dish was designed for reception of Sky TV from the UK.
The price was low and affordable - for the first time most people would be able to afford satellite TV.
The blue cap voltage switching single band LNB is shown on our vintage satellite page. Since it used
13/18 volts to switch from vertical polarity to horizontal polarity (not using a polariser) only one
cable was needed between the LNB and receiver making it easier to install.
If anyone has an earlier issue we would be delighted for a donation.

The Cable and Satellite Show 1986.
1986 show guide brochure.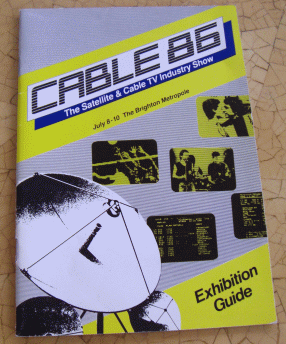 1986 was really in the very early days of satellite TV. The annual show in the UK was called The Cable and
Satellite show. Many exhibiters from that time have long since disappeared.

"Satellite Television" by Peter Pearson.
1987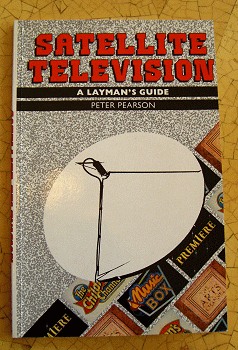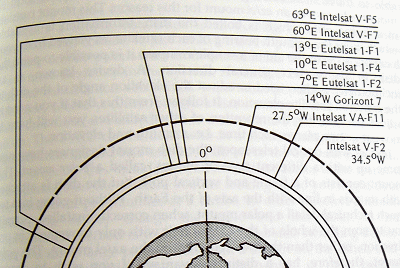 We are very grateful to Peter for providing a signed copy of this historic publication.
First published in 1987 it explains the basics of satellite TV to a public who, at the time
only knew about the 4 channels available from an aerial. Very few people in the UK in 1987 had
either satellite TV or cable. Indeed the satellites were low power requiring a fairly large dish
and whilst the channel choice was wide compared to terrestrial TV, it was very limited
compared to the digital choice today. A small extract from the book is shown on the right
and the main satellites available at the time are detailed. Clearly 13E was just as
important in 1987 just as it is today. Peter also contributed some old satellite receivers
to the museum including the Triax 2000S shown on the
Satellite Page


Making a donation.
The Rewind Museum is a non-profit making endeavor. The web site and the touring exhibitions are run on
a voluntary basis. Donations,
not money,
just old items you no longer want, are always welcome.
If you have something that you think would be of interest, please contact us with the details.
We can send in a courier to pick them up. (Even an international courier). Thank you.

Link to our main site. Satellite TV.
Sponsored by Vision International.
Note. One of our businesses, Vision International (established 1991) sponsors the
Rewind Museum including financial support for this web site.
Vision International is one of a group of businesses that we have in the field of
Satellite TV. This is a link to our sponsor.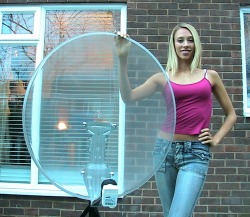 Get an extra 4000 channels? Watch the world? Links to some of the pages are below,
Sky Receivers
Sky Accessories
Transparent Dishes
Motorised systems
High Definition Receivers.
Caravan satellite
Catalogue index page of all satellite products.
The Rewind Museum's web site is maintained on a non-profit
making voluntary basis. Our main business website is at
www.satellitesuperstore.com/cat.htm
Our main business is satellite TV and we are a specialist satellite company.
We supply satellite goods in the UK and worldwide including fixed and
motorised satellite systems, accessories and installation equipment.

Web site copyright © 2006 Vision International. All rights reserved.
For all questions & comments regarding this site's content,
contact Dave
(We only accept questions in English. We do not open attachments.)