Museum of early consumer electronics and 1st achievements
www.rewindmuseum.com



Reel to Reel (open reel) Audio
1964. The Philips EL 3586 portable reel to reel video recorder and EL 3586's separate power supply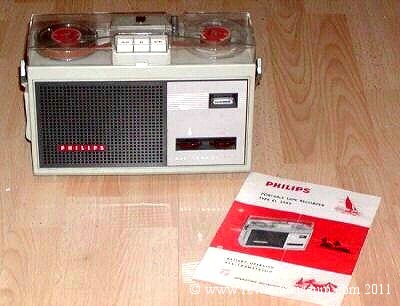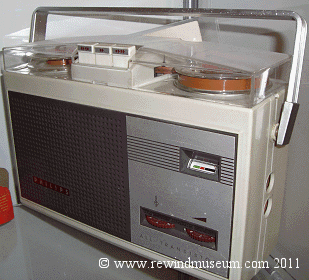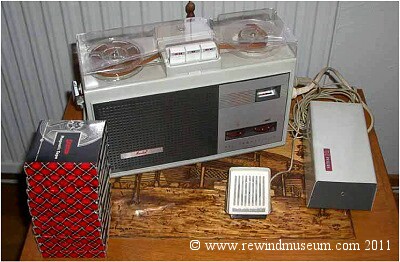 Simon Valve (Tube) Tape Recorder.
Produced by Simon Sound of London, the SP2 was developed from their earlier SP1 and dates
from late 1955. It was a two-speed (7-1/2 and 3/3-4 ips), three-motor tape recorder which
provided excellent recording and reproduction through an internal 10" speaker. Uniquely,
it featured a W-gate motion control lever simplifying its operation. The electric motors
were made by Collaro whom themselves later produced a very successful tape deck in addition
to their famous record players.
At the same time as they were developing the SP deck, Simon developed an interesting airfield
voice logger; that division was sold on, but while the Simon SP series tape recorders were very
highly regarded and they continued their development into the late 1950s, they lost their
direction in the early 1960s with innovative designs using a Garrard and a novel EMI desk,
neither of which captured the imagination of the public. By 1967, Simon Sound had
effectively disappeared. - Thanks to Barry M Jones for this information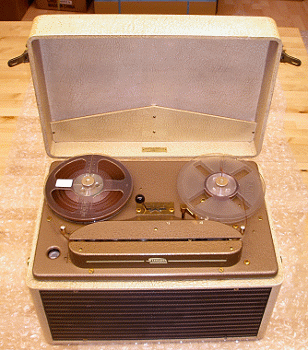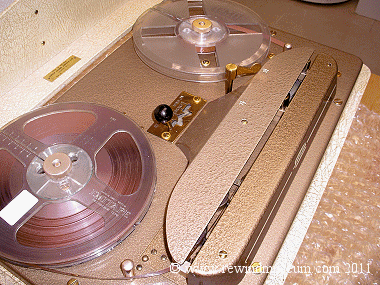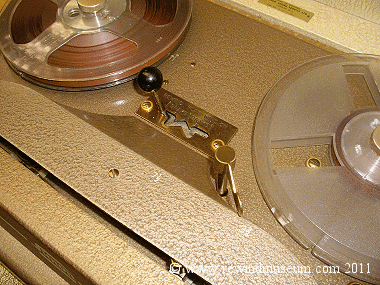 This very heavy valve tape recorder was made in the UK by "Simon".
information on tape recorders can be found in the softback book
"A Guide to British tape-recorders" by Barry M Jones.
The book can be ordered from Barry M Jones. See
www.brenelltape.co.uk

The F1-Cord portable reel to reel tape recorder. 1965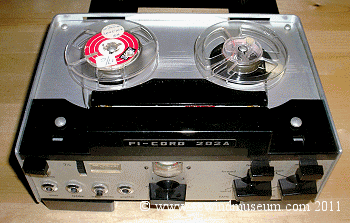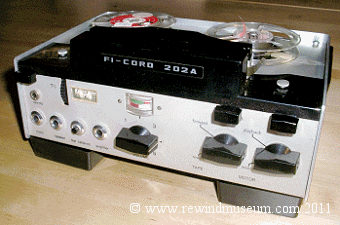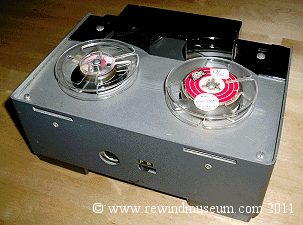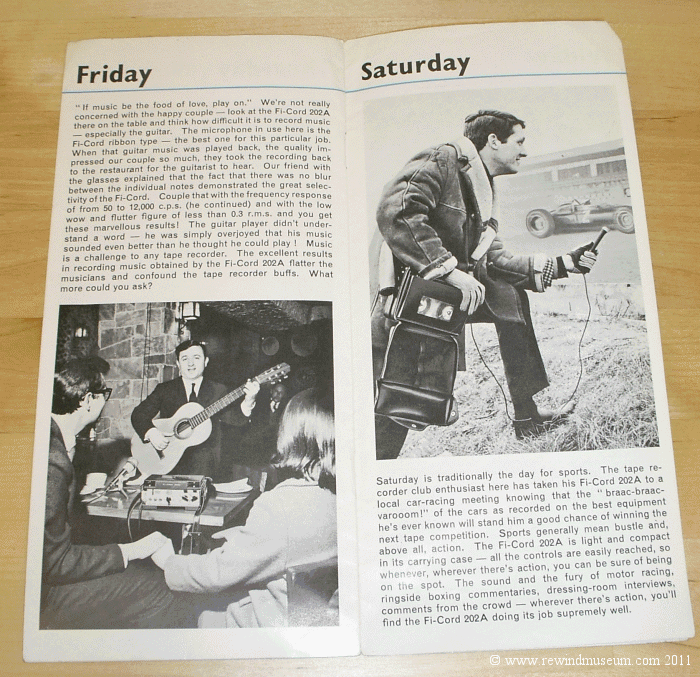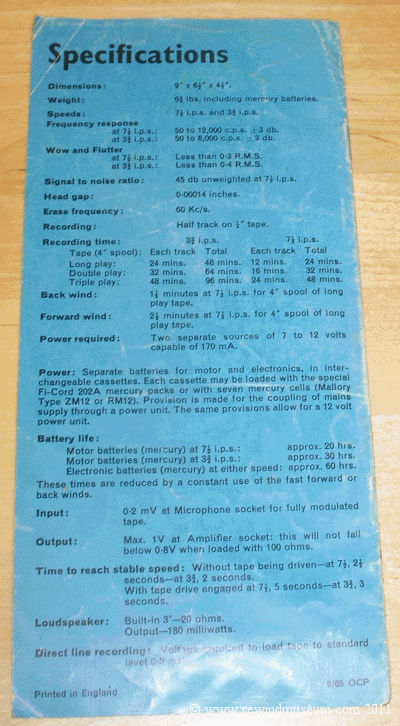 Fi-Cord were based in Yorkshire and offered a superb British built, portable 3" battery portable,
the Fi-Cord 1A, designed by Quallet-Stellavox of Switzerland. Costing 59gns (£62/19/0d) in 1959
it proved tremendously popular with journalists and engineers alike in field tests through its sheer
compactness an durability, suffering only in limited duration.
With the launch the superb Uher 4000 portable in 1963, adopted by the BBC, Fi-Cord designed the
table top/portable Fi-Cord 202 which was built in Switzerland. With automatic recording level
control, it had a claimed 50-12,000Hz response and operated at 3-3/4 or 7-1/2ips but suffered
poor wow and flutter. Though otherwise a good performer it failed to match the superior Uher
model and was thus a short lived, and loved, model.
Thereafter Fi-Cord concentrated on hi-quality, Swiss made miniature recorders such as the 101 and 303
Thanks to Barry M Jones for this information.

1958 Grundig TK20 Tape Recorder.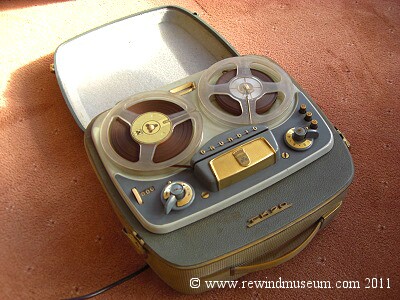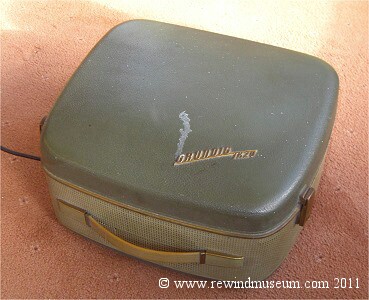 Made in Germany,this is half track mono audio tape recorder. Tape Speed - 3 i.p.s.
Grundig TK20 Tape Recorder. Original price 50 gns. Grundig Ltd, 39/41 New Oxford Street, London.
Many reports on the web date this unit as 1960. This is not correct. It was reviewed in the
September 1958 issue of "The Gramophone Magazine".

Hi Fi Sound magazine from Feb. 1970
I bought this magazine in 1970 and recently mislaid it. Managed to find it on e-bay so if it
turns up in the future, I will have 2 copies. This copy features the excellent
Ferrograph Series 7 reel to reel audio recorder.


Making a donation.
The Rewind Museum is a non-profit making endeavor. The web site and the touring exhibitions are run on
a voluntary basis. Donations,
not money,
just old items you no longer want, are always welcome.
If you have something that you think would be of interest, please contact us with the details.
We can send in a courier to pick them up. (Even an international courier). Thank you.


Link to our main site. Satellite TV.
Sponsored by Vision International.
Note. One of our businesses, Vision International (established 1991) sponsors the
Rewind Museum including financial support for this web site.
Vision International is one of a group of businesses that we have in the field of
Satellite TV. This is a link to our sponsor.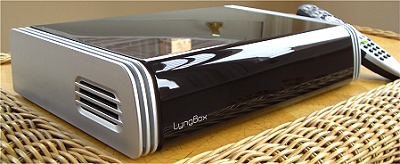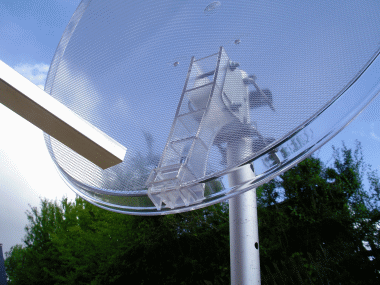 tune in an extra 8000 channels? Watch the world? Links to some of the pages are below,
Sky Receivers
Sky Accessories
Transparent Dishes
Motorised systems
High Definition Receivers.
Caravan satellite
Lyngbox
Catalogue index page of all satellite products.
Technomate
The Rewind Museum web site is maintained on a non-profit
making voluntary basis. Our main business website is at
www.satellitesuperstore.com/cat.htm
Our main business is satellite TV and we are a specialist satellite company.
We supply satellite goods in the UK and worldwide including fixed and
motorised satellite systems, accessories and installation equipment.

Web site copyright © 2010 Vision International. All rights reserved.
For all questions & comments about this site's content
contact Dave
at Rewind
Museum (We only accept questions in English. We do not open attachments.)